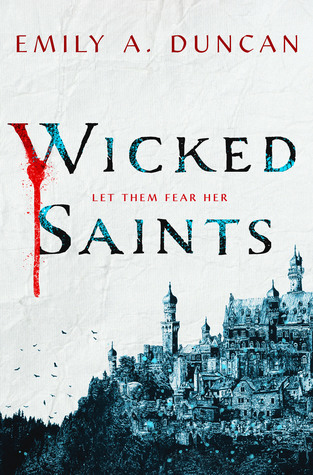 Title: Wicked Saints
Series: Something Dark and Holy #1
Author: Emily A. Duncan
Source/Format: Borrowed from the library; Hardcover
More Details: Young Adult; Fantasy
Publisher/Publication Date: Wednesday Books; April 2, 2019
Goodreads
Amazon
Barnes & Noble
Book Depository

Synopsis from Goodreads...
A girl who can speak to gods must save her people without destroying herself. A prince in danger must decide who to trust. A boy with a monstrous secret waits in the wings. Together, they must assassinate the king and stop the war. In a centuries-long war where beauty and brutality meet, their three paths entwine in a shadowy world of spilled blood and mysterious saints, where a forbidden romance threatens to tip the scales between dark and light. Wicked Saints is the thrilling start to Emily A. Duncan's devastatingly Gothic Something Dark and Holy trilogy....
There
was a lot of hype for Wicked Saints, but I was still immensely excited about it. It was one of my most anticipated releases of 2019 and sounded like a story that would appeal to my love of fantasy novels. I mean the synopsis talks about an interesting dynamic between magic, gods, and religion with contrary beliefs to act as an antagonistic foil to the MC's cause. And while there were a lot of interesting ideas here as well as action and magic, I just didn't enjoy this book as much as I thought I would. Parts of the story felt a little vague, and I never really got a good sense for the setting beyond a few key locations. That being said, the overall plot was good, the hints of history behind the central conflict were interesting enough, and the story was fast paced. So Wicked Saints was by no means bad. It was still a good story.
Blood was one of the big themes used in Wicked Saints since it was tied to the magic of the Tranavians. There was a lot of death and morally gray character in the book from both sides of the conflict. Nadya was kind of interesting, particularly how her magic worked and the relationship she had to the gods who spoke to her. However, at time I felt like her character got a little lost once she met Malachiasz. I mean everything he said she just believed it when she didn't even really know him. Ironically enough, my favorite parts of the story were actually from the prince's perspective. Despite his faults, I preferred his overall character arc to Nadya's.
On the other hand, you have the gods, who were enigmatic and omnipresent when they wanted to be. I would have liked to see more of them, because they were interesting. They did make comments here or there, but they remained mostly in the background for much of the story, even during some of the scenes when they were around to help Nadya. There was a demand for such absolute, unquestioning devotion to the point where Nadya initially came off as extreme and close-minded. The same could also be said about the Tranavians.
Like I said, everyone was more or less morally gray in this story.
I'm still a little conflicted about how I feel about the ending of Wicked Saints. There were some really good parts to it when the momentum picked up and stuff was
happening
, but then there were others scenes that left a "meh" feeling. The clues were there, but man, Nadya just…let me not. Still, the ending, had its high points, and I have so many questions about the gods and Nadya's origins.
Ultimately, Wicked Saints was a promising opening to this series, and I want to read the next book to see what fallout the characters will face for what happened.
Have you read Wicked Saints? Do you plan to read it?