Musing Mondays is a weekly meme hosted by
Jenn
at
Books and a Beat
, that asks you to muse about something book related each week.
My Musings for the Week...
Random weekly question from April 11th: Name a book everyone should read at least once.
For this question I'm going to go with Leviathan by Scott Westerfeld, which I recommend for fans of books with fantasy and alternative history elements. It was a really great introduction to the trilogy, and I liked Westerfeld's take on historical events. He created a truly unique alternative retelling of history filled with fantasy elements such as advanced machinery that reminded me of mecha, and genetically modified creatures that almost seemed mechanical
—
all around, a cool concept. Plus, Keith Thompson's illustrations were pretty awesome.
Other Musings...
Today, I'm just going to be sharing what I plan to read this week. I have two books I definitely want to get through. One of them is really short, so it won't be hard to read them both while possibly picking up a couple more books, depending on what catches my attention. The first one is
Dead is a State of Mind
by Marlene Perez, and the second is
The Body at the Tower
by Y.S. Lee. You can read more about them below...
Synopsis from Goodreads....
Welcome to Nightshade, California—a small town full of secrets. It's home to the psychic Giordano sisters, who have a way of getting mixed up in mysteries. During their investigations, they run across everything from pom-pom- shaking vampires to shape-shifting boyfriends to a clue-spewing jukebox. With their psychic powers and some sisterly support, they can crack any case! There's a gorgeous new guy at Nightshade High: Duke Sherrad, a fortune-teller claiming to have descended from Gypsies. Even though she's psychic herself, Daisy is skeptical of Duke's powers. But when a teacher who was the subject of one of his predictions ends up dead, she begins to wonder if Duke is the real deal after all. Maybe if Daisy can track down the teacher's killer, she can find out the truth. The only trouble is, all signs point to the murderer being of the furry persuasion. Is Daisy any match for a werewolf? Maybe she is . . . in more ways than she bargained for!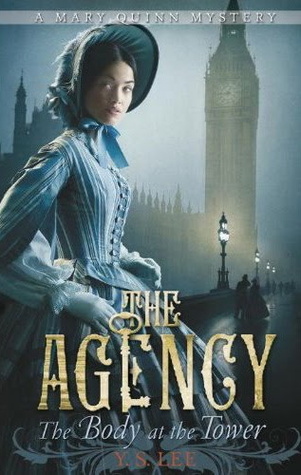 Synopsis from Goodreads...
Now nearly a full-fledged member of the Agency, the all-female detective unit operating out of Miss Scrimshaw's Academy for Girls, Mary Quinn is back for another action-packed adventure. Disguised as a poor apprentice builder and a boy, she must brave the grimy underbelly of Victorian London - as well as childhood fear, hunger, and constant want - to unmask the identity of a murderer. Assigned to monitor a building site on the clock tower of the Houses of Parliament, Mary earns the confidence of the work crew, inching ever nearer her suspect. But if an irresistible desire to help the city's needy doesn't distract her and jeopardize her cover, unexpectedly meeting up with an old friend - or flame - just might.
What are you reading this week?