Title: The Tea Master and the Detective
Author: Aliette de Bodard
Series: The Universe of Xuya
Source/Format: Subterranean Press via Netgalley; eARC
More Details: Science Fiction
Publisher/Publication Date: Subterranean Press; March 31, 2018
Goodreads
Amazon
Subterranean Press

Synopsis from Goodreads...
Welcome to the Scattered Pearls Belt, a collection of ring habitats and orbitals ruled by exiled human scholars and powerful families, and held together by living mindships who carry people and freight between the stars. In this fluid society, human and mindship avatars mingle in corridors and in function rooms, and physical and virtual realities overlap, the appearance of environments easily modified and adapted to interlocutors or current mood.
A transport ship discharged from military service after a traumatic injury, The Shadow's Child now ekes out a precarious living as a brewer of mind-altering drugs for the comfort of space-travellers. Meanwhile, abrasive and eccentric scholar Long Chau wants to find a corpse for a scientific study. When Long Chau walks into her office, The Shadow's Child expects an unpleasant but easy assignment. When the corpse turns out to have been murdered, Long Chau feels compelled to investigate, dragging The Shadow's Child with her.
As they dig deep into the victim's past, The Shadow's Child realizes that the investigation points to Long Chau's own murky past--and, ultimately, to the dark and unbearable void that lies between the stars...
I
'm always on the lookout for a good gender-swapped version of Sherlock Holmes, and Aliette de Bodard has achieved that and more with The Tea Master and the Detective. Despite its short length—it's a novella—De Bodard crafted a compelling book with a fantastic story set in the Xuya Universe with characters that were as mysterious as they were smart. It also had a unique take on space travel that felt fresh and innovative.
I adored this book. It was the perfect combination of science fiction and mystery, with a Sherlock Holmes and Watson-esque relationship between the two main characters, The Shadow's Child (a mindship) and Long Chau. That's one thing I love about De Bodard's writing—she always manages to create such vivid characters. The Shadow's Child was by far one of my favorite aspects about the book. It was a mindship discharged from the military after a traumatic injury. The character could have gone either way, good or bad. However, the backstory, personality, and how De Bodard portrayed the lingering fears linked to the aforementioned trauma, made for a well-rounded character. The same could be said about Long Chau; although, I much preferred when the two were interacting/investigating.
The Scattered Pearls Belt was an interesting place with excellent world building. There were a number of little details about the society that made it an interesting setting for a mystery to take place. I particularly enjoyed the author's take on space travel. Specifically, I liked the idea of using something as ordinary and everyday as tea to nullify the effects of traveling into "deep spaces." And the process behind making these teas—the trial and errors while brewing—were quite fascinating to read about.
So, The Tea Master and the Detective was pretty awesome. I loved everything about it, and I recommend it for readers who have read works by De Bodard before or are looking for a good place to
start.
Disclaimer: This copy of the book was provided by Subterranean Press via Netgalley for this review.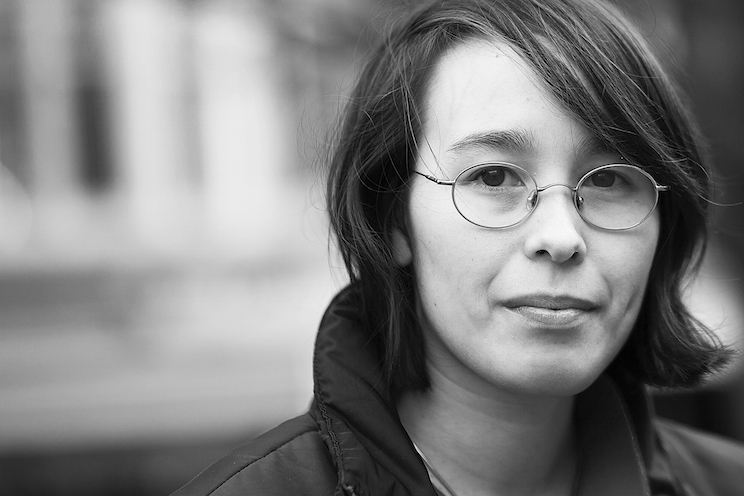 Aliette de Bodard lives and works in Paris, where she has a day job as a System Engineer. She studied Computer Science and Applied Mathematics, but moonlights as a writer of speculative fiction. She is the author of the critically acclaimed Obsidian and Blood trilogy of Aztec noir fantasies, as well as numerous short stories, which garnered her two Nebula Awards, a Locus Award and two British Science Fiction Association Awards. Her space opera books include The Tea Master and the Detective, a murder mystery set on a space station in a Vietnamese Galactic empire, inspired by the characters of Sherlock Holmes and Dr. Watson. Recent works include the Dominion of the Fallen series, set in a turn-of-the-century Paris devastated by a magical war, which comprises The House of Shattered Wings (Roc/Gollancz, 2015 British Science Fiction Association Award, Locus Award finalist), and its standalone sequel The House of Binding Thorns (Ace/Gollancz). She lives in Paris with her family, in a flat with more computers than warm bodies, and a set of Lovecraftian tentacled plants intent on taking over the place...
(Photo credit: Lou Abercrombie)