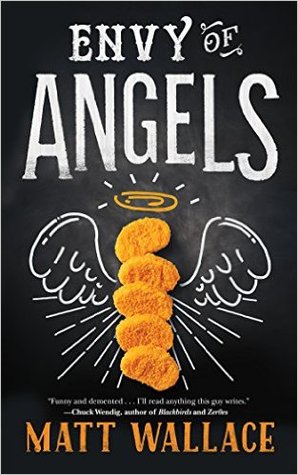 Title: Envy of Angels
Series: Sin du Jour #1
Author: Matt Wallace
Source/Format: Purchased; ebook
More Details: Urban Fantasy
Publisher/Publication Date: Tor.com; October 20, 2015
Goodreads
Amazon
Barnes & Noble
Book Depository
Synopsis from Goodreads...
In New York, eating out can be hell. Everyone loves a well-catered event, and the supernatural community is no different, but where do demons go to satisfy their culinary cravings? Welcome to Sin du Jour - where devils on horseback are the clients, not the dish...
I didn't know what to expect with the first book in the Sin du Jour series by Matt Wallace. Prior to diving into it, I'd heard a lot of good things about the series and my expectations were moderate. And I'm happy to report that I enjoyed this story. After all, it combined two of my favorite things: urban fantasy and cooking. With a combination like that, what could possibly go wrong? Well, for the characters, a lot actually.
I've read urban fantasy that also had cooking/catering combined with paranormal elements. And while those stories were good in their own way, I also enjoyed Envy of Angels for what it had to offer. There was a certain, often elevated, degree of ridiculousness to some of the situations the characters ended up in. It was very unexpected, but at the end of the day it worked. The cooking was probably my favorite part of Envy of Angels. I always love the idea behind supernatural catering/restaurants, and this is one of the more unique interpretations of it that I've recently read. There was a quirky and strange approach to the types of ingredients described, while the cooking techniques were, well, kind of normal. It was what one would expect from any kind of restaurant kitchen except for the ingredients. The characters are also worth mentioning, because they were interesting. They came from different backgrounds and held different jobs and as a result their skills and internal monologue varied greatly. I particularly enjoyed the side plot that involved Sin du Jour's "receiving folks" or procurement team. As it so happens, there's a short story about them over on Tor.com. It's called Small Wars, and you can find it here:
Small Wars by Matt Wallace; Tor.com
.
All in all, Envy of Angels was surprising in the best kind of way. It was everything I was hoping it would be and more. Suffice it to say, I will definitely read more books by Matt Wallace.