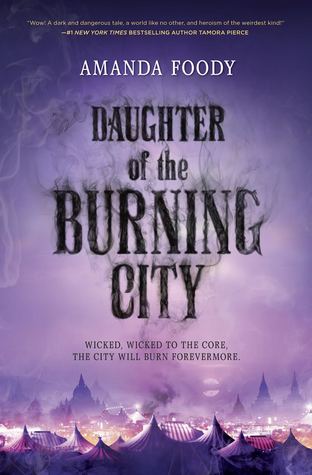 Title: Daughter of the Burning City
Series: N/A
Author: Amanda Foody
Source/Format: Borrowed from the library; Hardcover
More Details: Young Adult; Fantasy
Publisher/Publication Date: Harlequin Teen; July 25, 2017
Goodreads
Amazon
Barnes & Noble
Book Depository

Synopsis from Goodreads...
Sixteen-year-old Sorina has spent most of her life within the smoldering borders of the Gomorrah Festival. Yet even among the many unusual members of the traveling circus-city, Sorina stands apart as the only illusion-worker born in hundreds of years. This rare talent allows her to create illusions that others can see, feel and touch, with personalities all their own. Her creations are her family, and together they make up the cast of the Festival's Freak Show. But no matter how lifelike they may seem, her illusions are still just that—illusions, and not truly real. Or so she always believed…until one of them is murdered. Desperate to protect her family, Sorina must track down the culprit and determine how they killed a person who doesn't actually exist. Her search for answers leads her to the self-proclaimed gossip-worker Luca, and their investigation sends them through a haze of political turmoil and forbidden romance, and into the most sinister corners of the Festival. But as the killer continues murdering Sorina's illusions one by one, she must unravel the horrifying truth before all of her loved ones disappear...
I've wanted to read Daughter of the Burning City for a while now. I freely admit that I was drawn in by the gorgeous cover and premise, which promised a magical and dangerous circus-y type setting—which is a favorite trope/element of mine that I don't read often enough. I liked this book a lot more than I thought I would. It was a deeply atmospheric story. There were so many things about it that were cool and unique that I almost wish I'd read it sooner, but it is what it is.
Overall, I liked the story. There was a lot going on between the mystery about who was killing Sorina's illusion, and the broader conflicts surrounding Gomorrah's travels through the Up-Mountains. There were a lot of unexpected twists. And the setting was sort of fun—it's a festival after all—but it carried through on some darker themes. In that way, the burning city lived up to its name. And Foody succeeded at capturing the atmosphere of Gomorrah: the danger and mystery; how something of its nature moves from place to place, and what the way of life was like for the people who lived and worked there. The lore surrounding the smoke that clouds Gomorrah's sky was as unexpected and cool as the scenery and members of Sorina's show. There was, of course, a world outside of Gomorrah. There could have been…more to it, but there were clear hints of the landscape and brutal extremism in the Up-Mountain beliefs that often ended in violence.
Now the characters—for the most part, I liked them, particularly Sorina and her illusions. Sorina is a character I would best describe as somewhat naïve, but considering the story, her upbringing, and age, it ultimately worked because it fit with her personality. Now, Sorina is a character without eyes, and some of the expressions used to describe her emotional reactions were a little confusing. Such as when she was crying, but without eyes I wasn't certain how it worked. I wish that her emotions had been better reflected in her illusion jynx-work. But otherwise, I thought her character and abilities were fine.
I don't know. There was something about Daughter of the Burning City that I loved, a certain charm to the characters, story, and setting. And I liked the end. It was a satisfying conclusion for the characters, despite some lingering questions. Needless to say, I will definitely read more books by Amanda Foody...