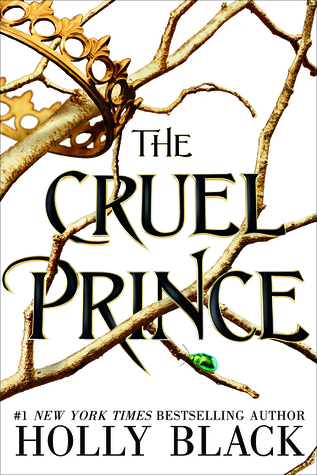 Title: The Cruel Prince
Author: Holly Black
Series: The Folk of the Air #1
Source/Format: Borrowed from the Library; Hardcover
More Details: Young Adult; Fantasy
Publisher/Publication Date: Little Brown Books for Young Readers; January 2, 2018
Goodreads
Amazon
Barnes & Noble
Book Depository

Synopsis from Goodreads...
Of course I want to be like them. They're beautiful as blades forged in some divine fire. They will live forever. And Cardan is even more beautiful than the rest. I hate him more than all the others. I hate him so much that sometimes when I look at him, I can hardly breathe...
Jude was seven years old when her parents were murdered and she and her two sisters were stolen away to live in the treacherous High Court of Faerie. Ten years later, Jude wants nothing more than to belong there, despite her mortality. But many of the fey despise humans. Especially Prince Cardan, the youngest and wickedest son of the High King. To win a place at the Court, she must defy him–and face the consequences. In doing so, she becomes embroiled in palace intrigues and deceptions, discovering her own capacity for bloodshed. But as civil war threatens to drown the Courts of Faerie in violence, Jude will need to risk her life in a dangerous alliance to save her sisters, and Faerie itself.
I have been a fan of Holly Black's writing for a number of years. I've always particularly enjoyed her books about fairies including The Spiderwick Chronicles (which I read as a kid), the Modern Faerie Tales, and The Darkest Part of the Forest. So, you can imagine how excited I was for The Cruel Prince.
I enjoyed this book. The plot had me hooked from the very first page. One thing I particularly enjoyed about The Cruel Prince was how it expanded the world already established in other books—like Tithe—and some familiar faces appeared briefly in the story.
The Cruel Prince didn't necessarily offer anything new in terms of fairies—especially if you've read books by this author before. It read like Black's usual take on fey lore with the fairies being cruel tricksters, and their society dark and atmospheric full of magic, danger, and politics. But that's what I was expecting and it was done so well. What I didn't expect was how much I liked the majority of Jude's perspective. For the most part she was okay. I didn't necessarily like all the decisions she made, and parts of her personality reminded me a little of Hazel from The Darkest Part of the Forest. At some parts, their goals were kind of similar, particularly in the beginning of The Cruel Prince. That being said, their stories were vastly different. It was also interesting to see the courts from the viewpoint of a human forced to live among the nobility of the fey and what daily life would be like for Jude and her twin.
The prince implied in the title, well…I didn't like his character for about 50% of the book. The title says it all: he was intentionally cruel to Jude to the point of endangering her life. And that crossed the line. However, the twists with his character were unexpected, and he went through some much needed development in book 2 (part 2). I wasn't exactly sympathetic to his character, but he was tolerable.
Overall, The Cruel Prince was everything I was hoping it would be. The last few chapters were amazing, and I look forward to what Holly Black has in-store for this story.