Musing Mondays is a weekly meme hosted by
Jenn
at
A Daily Rhythm
, that asks you to muse about something book related each week.
My Musings for the Week...
Random weekly question from January 18th:
Do you have any particular "quirks" when it comes to reading? (eg. taking notes while reading, etc)
I do occasionally take notes when there's something I specifically want to remember (especially if it's relevant to my review, such as details I want to make note of). I'm good at remembering what I liked and disliked about a book, so notes aren't necessary most of the time. I also listen to music while reading. Having good music in the background just sort of works for me. Lately, I've listened to a lot of music by Grimes, Janelle Monae, Angel Haze, Tove Lo, & Halsey.
Other musings...
One of my goals this year is to read some of the older books I have. But one of the things that crossed my mind is: Will I enjoy the books as much as I did the first time I read them? The answer to that, is that I'm not too sure. I liked them when I read them, but that was, as it stands, years ago. My reading tastes were different.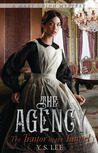 I'm sure I'll still enjoy them, but wondering about my reactions (and possible differences) was something to think about. One series I plan to revisit is The Agency series by Y.S. Lee. I haven't read the last book (Rivals in the City). I do have the first three, which I binge-read back in 2012. From what I remember, they were really good.
I think my worry comes from the fact that my reading tastes have changed a lot. But on another breath, I still have my preferences and dislikes. That, at the very least, couldn't have changed too much where some of my favorite books are concerned. So, I look forward to tackling some of the older books as part of my 2016 blogging resolutions.
What kind of music have you been listening to lately?