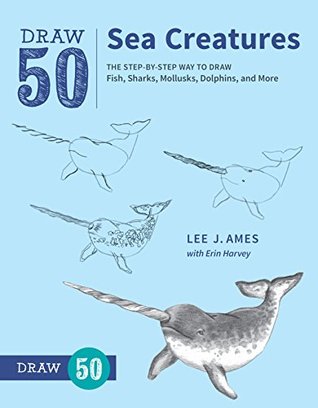 Title: Draw 50: Sea Creatures
Author: Lee J. Ames with Erin Harvey
Source/Format: Blogging from Books; Paperback
More Details: How-to; Nonfiction
Publisher/Publication Date: Watson-Guptill; July 25, 2017

Goodreads Amazon Barnes & Noble Book Depository
Synopsis from Goodreads...
Part of the best-selling Draw 50 series this step-by-step guide to drawing various fish, sharks, oysters, bottlenose dolphins, crabs, polar bears, coral, and other ocean life is for artists of all levels. In this new installment of Lee J. Ames's beloved Draw 50 series, readers will find easy-to-follow, step-by-step visual lessons on sketching and rendering all kinds of sea and ocean-dwelling creatures. Animals and plants from in and near the water featured in the book include clownfish, whale sharks, sea otters, dolphins, turtles and more...
When it comes to drawing books, I don't typically reach for ones that are specifically how-to or step by step. I like reading about the technical aspect instead. However, my goal is to improve on certain parts of my drawing skills that I consider to be weaker than others. So, when I saw Draw 50: Sea Creatures I couldn't resist.
My first impression of this book is that it was a lot smaller than I expected it to be. I'm not too familiar with Step-by-step books, but from the description I expected this one to be a little thicker, page wise anyway. Also, the examples of the process did not have any text to offer further explanation. However, that wasn't necessarily needed because the steps are pretty straightforward.
To get a good feel for how well this book works, I broke out my new sketchbook and drew five of the creatures in pencil. I tried to follow as many steps as I could. At some points, I did find myself skipping to the last step. However, that was mainly because I'm not a total beginner and didn't end up needing the skipped steps to get to the finished drawing. That being said, Draw 50: Sea Creatures is good for beginners. The steps are simple visual examples that could be helpful with learning the basics of sea creatures. Even I found this book to be a good exercise. I also liked the fact that there was a pretty good mixture of creatures to draw like conch shells, blue claw crabs, pelicans, lionfish, narwhals, puffins, and sharks—just to name a few.
Overall, Draw 50: Sea Creatures was better than I thought it would be. I'm keeping this one on my shelf, because I have a feeling that I'm going to end up getting a lot of use out of this book. (Actual rating 4.5 out of 5)
This copy of the book was provided by Blogging for Books (Publisher) for this review.
About Lee J. Ames...
Lee J. Ames began his career at the Walt Disney Studies, working on films such as Fantasia and Pinocchio. He taught at the School of Visual Arts in Manhattan, and at Dowling College on Long Island, New York. An avid worker, Ames directed his own advertising agency, illustrated for several magazines, and illustrated approximately 150 books that range from picture books to postgraduate texts. He resided in Dix Hills, Long Island, with his wife, Jocelyn, until his death in June 2011...
About Erin Harvey...
Erin Harvey is an artist who works primarily in pencils, charcoals, oils, and pen and ink. She lives outside Atlanta with her husband, Ben, and their two children.