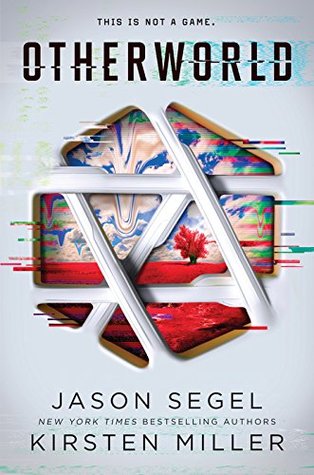 Title: Otherworld
Author: Jason Segel; Kristen Miller
Source/Format: Blogging for Books; Hardcover
More Details: Young Adult; Science Fiction
Publisher/Publication Date: Delacorte Press; October 31, 2017
Goodreads
Amazon
Barnes & Noble
Book Depository

Synopsis from Goodreads...
The company says Otherworld is amazing—like nothing you've ever seen before. They say it's addictive—that you'll want to stay forever. They promise Otherworld will make all your dreams come true. Simon thought Otherworld was a game. Turns out he knew nothing. Otherworld is the next phase of reality. It's everything you've ever wanted. And it's about to change humanity forever. Welcome to the Otherworld. No one could have seen it coming...
I'm so very-very disappointed. I've been looking forward to Otherworld since it was first announced, because I read Segel and Miller's middle grade series—Nightmares!—which was phenomenal. Needless to say, I was ready to love this one as much as Nighmares!. So, you can imagine how surprised I was by the fact that I just didn't like Otherworld and ultimately DNFed it before the hundred page mark. My main reason is the main character. It's told in first person, so, the fact that I didn't like the main character at all presented some issues I ultimately couldn't get over. I didn't like his personality, and his thoughts/internal monologue had me shaking my head "no", and not in a good way. His actions weren't humorous. Instead, he came off as spoiled and extremely gross. Based off of how this one went, it's not for me, and I won't be continuing on with this series.
Disclaimer: This copy of the book was provided by Blogging for Books (Publisher) for this review.
About the Jason Segel...
Jason Segel is an actor, a writer, and an author. Segel wrote and starred in Forgetting Sarah Marshall and cowrote Disney's
The Muppets
, which won an Academy Award for Best Original Song. Segel's other film credits include
The end of the Tour; I Love You, Man; Jeff Who Lives at Home; Knocked Up;
and
The Five Year Engagement.
On television, Segel starred on
How I Met Your Mother
as well as
Freaks and Geeks.
He is the coauthor of the New York Times bestselling Nightmares! series. Otherworld is his first novel for young adults...
About Kristen Miller...
Kristen Miller lives and writes in New York City. She is the author of the acclaimed Kiki Strike books, the New York Times bestseller The Eternal Ones, and How to Lead a Life Crime. Otherworld is the fifth novel Kristen has written with Jason Segel...