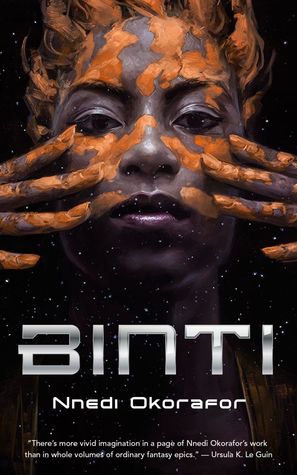 Title: Binti
Series: Binti #1
Author: Nnedi Okorafor
Source/Format: Borrowed from the library; Paperback
More Details: Science Fiction; Fantasy; Novella
Publisher/Publication Date: Tor.com; September 22, 2015
Goodreads
Amazon
Barnes & Noble
Book Depository

Synopsis from Goodreads...
Her name is Binti, and she is the first of the Himba people ever to be offered a place at Oomza University, the finest institution of higher learning in the galaxy. But to accept the offer will mean giving up her place in her family to travel between the stars among strangers who do not share her ways or respect her customs. Knowledge comes at a cost, one that Binti is willing to pay, but her journey will not be easy. The world she seeks to enter has long warred with the Meduse, an alien race that has become the stuff of nightmares. Oomza University has wronged the Meduse, and Binti's stellar travel will bring her within their deadly reach. If Binti hopes to survive the legacy of a war not of her making, she will need both the gifts of her people and the wisdom enshrined within the University, itself - but first she has to make it there, alive....
I've
read a couple of books by Nnedi Okorafor before—namely Akata Witch and its sequel, Akata Warrior. I liked both of them, and since then Binti has been on my TBR list. I liked Binti. It was a quick read, and a pretty unique take on a coming-of-age story. It was one girl's journey to a university while struggling with the expectations placed on her by family. And while the story was an interesting one, I was conflicted about parts of the ending. It was good, but after everything that happened, there were aspects about it that were almost too neatly done. I did like the technology here, particularly the descriptions of the ship—"Third Fish"— which Binti boarded toward the beginning of the novella. I liked what Okorafor did with the Meduse, especially their unique appearance. I also liked Binti's character, and that's a good thing since the novella was from her perspective. Her hesitation and doubt about the decisions she was making were clearly illustrated in the narrative: she was chasing her dream while trying to maintain a feeling of being connected to the traditions of her family. At the same time she was going against their wishes while having to leave them behind on earth. Overall, Binti was an interesting read. I'm looking forward to eventually reading the rest of the trilogy.
Have you read Binti? If so, what did you think about it?