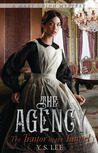 Title: The Traitor in the Tunnel
Author: Y.S. Lee
Source/Format: Purchased; Hardcover
More Details: Young Adult; Historical; Mystery
Publisher/Publication Date: Candlewick Press; February 28, 2012
Goodreads
Amazon
Barnes & Noble
Book Depository

Synopsis from Goodreads...
Queen Victoria has a problem: there's a thief at work in Buckingham Palace. The Agency - the secret all-female detective unit - assigns quick-witted Mary Quinn to the case. Posing as a palace maid and fending off the attentions of the Prince of Wales are challenging enough, but when the prince witnesses a murder, Mary's case becomes anything but petty. Engineer and former flame James Easton has an assignment in the sewers, where someone is making illicit use of the tunnels. Mary will need James's help if she's going catch a thief, solve a murder - and avert disaster...
Whenever I pick up a Mary Quinn mystery I know I'm always in for a fun adventure set against the backdrop of historical London. And The Traitor in the Tunnel was no different. All my favorite characters were back and better than ever, and Mary has once again been dispatched by the Agency. Only, this time her case had landed her in the position of a maid in Buckingham Palace rather than at a dangerous construction site like the one from The Body at the Tower.
Y.S. Lee knows how to write convincing characters and has continued to develop them across the series so far. The Traitor in the Tunnel was as much about the mystery as it was an emotional journey for Mary, and Lee managed to skillfully intertwine these elements into a single story. The Agency remains one of my favorite aspects. I really like how Lee structured the organization as an all-female agency, which used the stereotypes of women during that time period as an advantage for their operatives.
Across three books, I've seen Mary go from giving up on life altogether—which was a pretty grim and gloomy beginning—to finding a place and occupation that suited her, and wanting to live life to the fullest. In The Traitor in the Tunnel, she had to face some hard truths and come to understand herself and her emotions. And really, it was kind of awesome. James was also back in the picture, albeit working on projects of his own. But really, they were best together. I really like his interactions with Mary. They make such a great team! They have good chemistry and the best banter.
The plot was also good and featured solid straight-forward storytelling. The mystery was intriguing and started out with a fairly mild beginning but quickly transitioned into one with higher stakes. As such, there were moments of tension and even some action thrown in. The writing was consistently good. Lee's style is descriptive, yet gets to the point without beating around the bush with unnecessary information.
So, The Traitor in the Tunnel was an engaging and super fun novel to read. It was great to get caught up with the old characters and even those new to the scene.