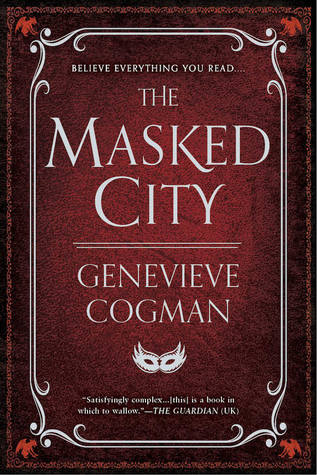 Title: The Masked City
Series: The Invisible Library #2
Author: Genevieve Cogman
Source/Format: Borrowed from the Library; Paperback
More Details: Historical; Fantasy
Publisher/Publication Date: Ace Books; September 6, 2016
Goodreads
Amazon
Barnes & Noble
Book Depository

Synopsis from Goodreads...
Working in an alternate version of Victorian London, Librarian-spy Irene has settled into a routine, collecting important fiction for the mysterious Library and blending in nicely with the local culture. But when her apprentice, Kai—a dragon of royal descent—is kidnapped by the Fae, her carefully crafted undercover operation begins to crumble.
Kai's abduction could incite a conflict between the forces of chaos and order that would devastate all worlds and all dimensions. To keep humanity from getting caught in the crossfire, Irene will have to team up with a local Fae leader to travel deep into a version of Venice filled with dark magic, strange coincidences, and a perpetual celebration of Carnival—and save her friend before he becomes the first casualty of a catastrophic war.
But navigating the tumultuous landscape of Fae politics will take more than Irene's book-smarts and fast-talking—to ward off Armageddon, she might have to sacrifice everything she holds dear....



Since

I recently read and loved The Mortal Word, book #5 of the Invisible Library series, I'd decided to make it a goal to read the other three books I'd missed. So the obvious place to start was The Masked City.

I loved this book. It combined elements of historical fiction with those of fantasy with an added touch of futuristic technology in certain aspects of the setting. The Masked City was also fast paced and packed with enough danger, action, and mystery to make the story an exciting follow-up to The Invisible Library (book #1). All of my favorite characters—Irene, Vale, Kai, and Silver—were present as new and familiar worlds were further explored. Although, this time around, Irene's usual duties as a Librarian were mostly put on hold in favor of rescuing her apprentice.

There were some parts of the mystery that got solved relatively early on, but it wasn't bad considering the answers brought more questions rather than a firm resolution. The Masked City also delved into more of the politics between dragons and the Fae with the focus on the latter since the story mainly took place in a world heavily influenced by chaos. These details are somewhat beneficial to know when trying to understad the Fae of Cogman's series. It not only provided context for their nature it showed it as well through Irene's interactions with Silver and others—something that was especially highlighted given the setting being in an extremely high chaos zone, which was a stark contrast to the other worlds Irene had been to. To say the least, it was interesting how stories/personal narratives came into play. There were also some new enemies, as well others who were very familiar, working behind the scenes toward their own goals.

So, overall, the story was good, and I plan to read The Burning Page sometime soon. I've already read the synopsis for it, and I'm interested in seeing how the Alberich situation gets resolved....