Today I'm so excited to finally bring you my interview with Kimberly Karalius, the author of Love Fortunes and Other Disasters. (You can check out my review for the book
HERE
) But before I get to the interview check out the synopsis below to learn more about the book...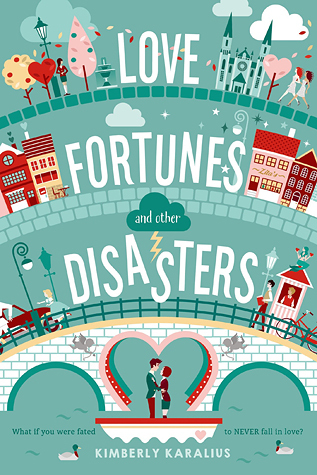 Synopsis from Goodreads...
Love is real in the town of Grimbaud, and Fallon Dupree has dreamed of attending high school there for years. After all, generations of Duprees have successfully followed the (100% accurate!) love fortunes from Zita's famous Love Charms Shop to happily marry their high school sweethearts. It's a tradition. So she is both stunned and devastated when her fortune states that she will NEVER find love. Fortunately, Fallon isn't the only student with a terrible love fortune, and a rebellion is brewing. Fallon is determined to take control of her own fate—even if it means working with a notorious heartbreaker like Sebastian. Will Fallon and Sebastian be able to overthrow Zita's tyranny and fall in love?
How did you come up with the idea for Love Fortunes and Other Disasters?
Love Fortunes started from a few conversations I had with my fellow English majors in college. We used to study together in the dorm lobby, and our texts usually sparked some interesting tangents. Girls severely outnumbered boys on campus; with such a lack of dating opportunities, we used to imagine ourselves becoming glamourous spinsters after graduation, with mansions, butlers, and rooms full of cats (or dogs for me. I'll always be a dog person). I wanted to turn that idea into a YA novel, but I knew it would be a challenge since teens have their whole lives ahead of them – why should they be worried about not finding love? Then Zita's 100% accurate love fortunes and the town of Grimbaud came to be.
What made you decide to submit your novel to Swoon Reads? Was there a particular reason why the platform appealed to you?
I knew I wanted to submit my novel to Swoon Reads because of its crowd-sourcing model. I was already comfortable with the model after sharing my work for years on
Figment.com
, a teen writing site, which uses a similar idea to boost popular stories on the site for more readers to see. I loved giving and receiving feedback with fellow writers and readers on Figment, and the sense of community that came with it, so I couldn't wait to jump into Swoon Reads and see what it was like there (with the hope of having my book published too!).
Do you have a particular spot where you like to write (especially in the summer)?
I don't have much tolerance for hot weather, and Florida gets extremely steamy during the summer months. So when I write, I like sitting on a comfy couch with my laptop in my lap, in direct contact with air conditioning. In fact, I love writing in sweaters and sweats, which is something I can get away with if I don't go outside *laughs* That's an ideal situation, though. I graduated a while ago, so I work at my fulltime job over the summer (writing time only happens at night now, when the temperature drops, hurrah!).
What was your reaction to learning that your novel had been selected to be published by Swoon Reads?
I was so excited I was shaking, but I had to suppress any further reactions until when I got home from work. I found out while I was working – I had a nice cubicle in the department I worked in at the time, but it was still exposed. So when I got the email and talked with Jean Feiwel and my future editor, Holly West, I was trying so hard to appear calm and collected in front of my coworkers. After all, as awesome as it was to get the good news, I had to keep it a secret until Swoon Reads officially announced it to the world. So… much shaking, and a LOT of internal screaming and dancing.
What's your biggest source of inspiration?
Anything strange and vintage. I gravitate towards antique and gift shops for that reason. It's fun to wander through the aisles and wonder who would buy certain items and why (customers… and future characters, perhaps). Recently, I saw bookends shaped like keys. I have no use for bookends since I had too many books (my books are bookends), but I could picture a lonely baron owning the pair in his dusty library overlooking the grey ocean below.
What's next for you?
I'm happy to announce that my second book with Swoon Reads is a sequel to Love Fortunes and Other Disasters. The main character is someone you've already met in the previous book. That's all I can say for now, but keep a lookout on the Swoon Reads site for more news soon!
And that's it. Thank you to Kimberly Karalius for doing the interview, and don't forget to check out her book Love Fortunes and Other Disasters. Happy reading!
About the Author...

If you gave her a wish bone, Kimberly would wish fervently for snow in Florida. Her love for 90s cartoons (or any cartoons, really) knows no bounds. She might be the only person you know who can be completely engrossed in watching silent films. Being in Florida certainly has one big perk: going to Disney World. Which she does. Frequently. Kimberly holds an MFA in fiction from the University of South Florida. Her fiction has appeared in literary journals such as Luna Station Quarterly, The Medulla Review, and Hogglepot. Her chapbook, Pocket Forest, was published by Deathless Press in August 2013. Love Fortunes and Other Disasters (Swoon Reads/Macmillan May 2015) is her debut novel
Places to find Kimberly Karalius online . . .