Rules:
Musing Mondays is a weekly meme hosted by Ambrosia at The Purple Booker that asks you to muse about something book related each week.
My musings for the week...
(Random weekly question from March 13th) Do you post book reviews right after you finish the book? Or do you wait a while so you can fully digest it before posting a review?
I don't post reviews right after I finish a book. Lately, I'm finding more often than not, that I need a little extra time to think about what I want to say about the book. Even then, that's not the sole reason why I don't immediately post reviews. My main reason is that I typically put them on the blog on Wednesdays, and even with that in mind the review isn't going to appear until about a week—give or take a few days—after I've mentioned the book for The Friday 56. That's due to how I have things scheduled. The same thing kind of applies to ARC's. Except, I will post the reviews closer to release date which has little to nothing to do with how I regularly schedule posts.
(Random weekly question from February 27th) Have you ever accidentally destroyed a book? Such as accidentally dropped it in the tub, or run it over with a bike? How about accidentally on purpose or simply purposefully?
I don't recall ever intentionally destroying a book, but some of my most read, well-loved favorites have tattered covers and dog-eared pages. But that's a small price I'm willing to pay for getting to reread all of my favorite scenes over and over again. After all, what's the point of having so many books if I'm not willing to just enjoy them?
(Random weekly question from March 20th) What do think of fairy tales in general? The book versions and their movie counter parts?
Well, in general, I do like fairy tales and have specific favorites that I always go back to. There are some that I don't like as much, but that's just a personal preference of mine. I'm not really that picky when it comes to the movie and/or book version, because more often than not, there's going to be aspects about both that I really enjoyed or don't like as much. Although, I will say that it's always fun to see those characters come to life on the screen. This question reminds me about how much I actually enjoy movies based on fairy tales. I'm mostly in it for the magic, scenery, story, and the atmosphere that those things create.
Other Musings...
After I've gotten through some other stuff I need to do, I'm going to finally read The Hate U Give by Angie Thomas. Hopefully, that'll be sometime this week. Anyway, this is one of my most anticipated 2017 new releases, and I'm really looking forward to reading it.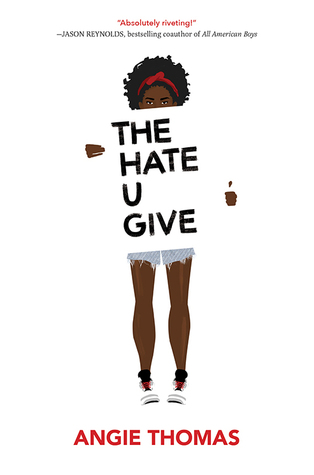 Sixteen-year-old Starr Carter moves between two worlds: the poor neighborhood where she lives and the fancy suburban prep school she attends. The uneasy balance between these worlds is shattered when Starr witnesses the fatal shooting of her childhood best friend Khalil at the hands of a police officer. Khalil was unarmed. Soon afterward, his death is a national headline. Some are calling him a thug, maybe even a drug dealer and a gangbanger. Protesters are taking to the streets in Khalil's name. Some cops and the local drug lord try to intimidate Starr and her family. What everyone wants to know is: what really went down that night? And the only person alive who can answer that is Starr. But what Starr does or does not say could upend her community. It could also endanger her life...
What are you reading this week?