The Friday 56
is a weekly meme hosted by
Freda's Voice
where every Friday you pick a book and turn to page 56 or 56%, and select a sentence or a few, as long as it's not a spoiler. For the full rules, visit the the page
HERE
Book Beginnings
is a weekly meme hosted by
Rose City Reader
that asks you to share the first sentence (or so) of the book you're reading.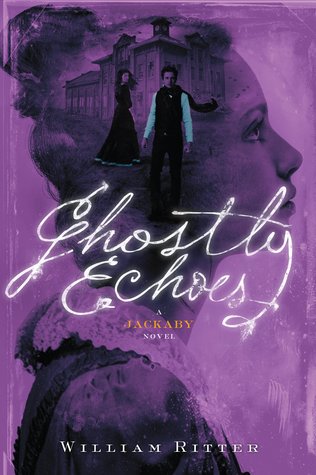 Synopsis from Goodreads...
Jenny Cavanaugh, the ghostly lady of 926 Augur Lane, has enlisted the investigative services of her fellow residents to solve a decade-old murder—her own. Abigail Rook and her eccentric employer, Detective R. F. Jackaby, dive into the cold case, starting with a search for Jenny's fiancé, who went missing the night she died. But when a new, gruesome murder closely mirrors the events of ten years prior, Abigail and Jackaby realize that Jenny's case isn't so cold after all, and her killer may be far more dangerous than they suspected. Fantasy and folklore mix with mad science as Abigail's race to unravel the mystery leads her across the cold cobblestones of nineteenth-century New England, down to the mythical underworld, and deep into her colleagues' grim histories to battle the most deadly foe she has ever faced...
Beginnings: "Mr. Jackaby's cluttered office spun around me. Leaning heavily on the desk, I caught my breath in shuddering gulps. My head was throbbing, as though a shard of ice had pierced through one temple and out the other, but the sensation was gradually subsiding."
56: "Officer Moore and I hurried to join Jackaby a the window, outside which the nosy neighbor had been conveniently trimming an already immaculate bush."
Comments: I actually read Ghostly Echoes in early February, and I thought the story was pretty good. My favorite part was definitely the mystery. I don't normally start with the third book in a series. However, I already had this book on my shelf. The opening scene of Ghostly Echoes was actually pretty interesting, and involved a supernatural element that I thought was cool.
What are you reading this week?