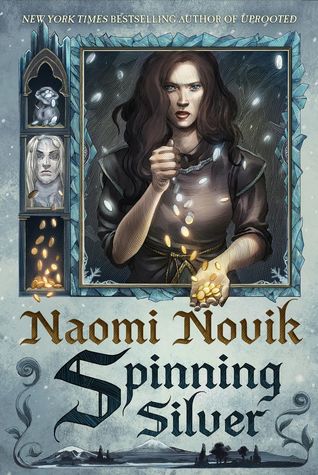 Title: Spinning Silver
Series: n/a
Author: Naomi Novik
Source/Format: Borrowed from the library; hardback
More Details: Fantasy; Retelling
Publisher/Publication Date: Del Rey; July 10, 2018
Goodreads
Amazon
Barnes & Noble
Book Depository

Synopsis from Goodreads...
Miryem is the daughter and granddaughter of moneylenders... but her father isn't a very good one. Free to lend and reluctant to collect, he has loaned out most of his wife's dowry and left the family on the edge of poverty--until Miryem steps in. Hardening her heart against her fellow villagers' pleas, she sets out to collect what is owed--and finds herself more than up to the task. When her grandfather loans her a pouch of silver pennies, she brings it back full of gold. But having the reputation of being able to change silver to gold can be more trouble than it's worth--especially when her fate becomes tangled with the cold creatures that haunt the wood, and whose king has learned of her reputation and wants to exploit it for reasons Miryem cannot understand...
Words
cannot accurately express how good Spinning Silver was, or how much I enjoyed reading it. For one of my most highly anticipated releases of 2018, my expectations were already high and the story met each and every one of them on almost every level. Novik has a way with words, because she created such an atmospheric, fairy tale-esque story. And while there were many perspectives, the characters were interesting and compelling in an equally fascinating story.
First off, I have to talk about the world building, because it was gorgeous. The book was filled with layers of vivid imagery, told with precise detail. I could picture the snow and the cold, how the plants and even the Staryk road looked whenever it appeared between the trees. I could picture the jewelry, clothes, and characters. Obviously the setting was one of my favorite aspects of Spinning Silver. There were these hints of magic that were done so well that it seemed organic in how it fit naturally into the world and the lives of the characters. There was never a moment where I doubted its place in the story.
The story is what initially drew me to Spinning Silver. As soon as I heard about Miryem and her situation, how she takes over for her father after he failed to provide for her and her mother, I was immediately interested. I loved the moneylending parts in the book, because they displayed Miryem's skills and determination. Spinning Silver was a slower moving fantasy novel. There were a lot of complicated parts to the plot. That being said, I didn't mind, because I found all of the perspectives interesting. And the build-up to the end was solid storytelling. And while the POV switches were a little difficult to follow at first—sometimes even as many as three times in a single chapter—once I was more familiar with the characters, I knew who was narrating based off of the setting and secondary characters they were interacting with.
Speaking of the characters, they were also a notable aspect of Spinning Silver. I had my favorites such as Miryem and Irina—and a few others I won't name, to avoid any unintentional spoilers. I liked this group of characters. They were at different stages of their lives, even though there was always a sense of difficulty, the need for decisions, and the consequences of actions no matter which POV I was reading. Out of all them, Miryem was still my favorite.
Overall, Spinning Silver is now one of my favorite books. In fact, I enjoyed it more than Uprooted. So, if Novik writes another retelling, I'll read it....