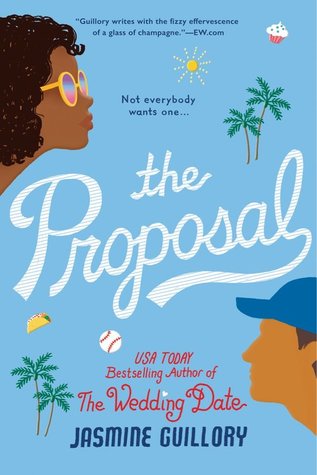 Title: The Proposal
Series: n/a
Author: Jasmine Guillory
Source/Format: First to Read; eARC
More Details: Contemporary; Romance
Publisher/Publication Date: Berkley Books; October 30, 2018
Goodreads Amazon Barnes & Noble Book Depository

Synopsis from Goodreads...
The author of The Wedding Date serves up a novel about what happens when a public proposal doesn't turn into a happy ending, thanks to a woman who knows exactly how to make one on her own. When someone asks you to spend your life with him, it shouldn't come as a surprise--or happen in front of 45,000 people....
When freelance writer Nikole Paterson goes to a Dodgers game with her actor boyfriend, his man bun, and his bros, the last thing she expects is a scoreboard proposal. Saying no isn't the hard part--they've only been dating for five months, and he can't even spell her name correctly. The hard part is having to face a stadium full of disappointed fans...
At the game with his sister, Carlos Ibarra comes to Nik's rescue and rushes her away from a camera crew. He's even there for her when the video goes viral and Nik's social media blows up--in a bad way. Nik knows that in the wilds of LA, a handsome doctor like Carlos can't be looking for anything serious, so she embarks on an epic rebound with him, filled with food, fun, and fantastic sex. But when their glorified hookups start breaking the rules, one of them has to be smart enough to put on the brakes...
The
Proposal by Jasmine Guillory is another cute romance with an excellent cast of diverse characters, and a heroine who finds herself on the wrong side of a story gone viral. And while a public proposal can seem like a sweet idea, The Proposal showed all the ways it could go wrong. Right off the bat—no pun intended—the inciting incident provided the perfect foundation for the rest of the story by adding some early conflict to the plot. And I liked it.
Carlos was one of my favorite characters from The Wedding Date. However, he was only in a supporting role as the best friend of Drew. Here, he's the main guy, and Guillory fleshed-out his character by adding his backstory and showing more of his family—like his sister, mother, and cousin. I liked Carlos's family. They were wonderful characters.
Nik was also interesting. She was sassy at times, smart, and had a number of great friends who were willing to back her up—whether that was a much needed cupcake, relationship advice, dinner, or simply getting together to talk things over.
The Proposal was more of a slow burn kind of romance. The characters spent a lot of talking and hanging out together. This was a nice touch to the story because it introduced the main characters of The Proposal to me, as the reader, and to each other on page without slowing down the story. The beginning was excellent. However, some of descriptions and dialogue seemed a little repetitive at times. That being said, I didn't have the same problem with the second half of the story, and since this was an ARC, it may be changed in the final version of the book.
All-in-all, The Proposal was a pretty great read. And I'm looking forward to whatever Guillory writes next....
About the author...
Jasmine Guillory is a graduate of Wellesley College and Stanford Law School. She is a Bay Area native who has towering stacks of books in her living room, a cake recipe for every occasion, and upwards of 50 lipsticks....
Disclaimer: This copy of the book was provided by First to Read for this review, thank you!